Hello community!
Today I finally release my lastest work! 11 maps in 5 countries! Russia, Africa, Sweden, Finland, Switzerland!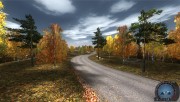 Rally map pack by matt55&modd15 converted from RT
INSTALLATION:
Copy the "World Racing 2" folder to Your game directory, Remember to use WR2 manager to activate the map!
This is the addon map for game "World Racing 2"
Maps taken from Rally Trophy by Jowood and converted by: matt55 & modd15
Features:
- accurate models of rally maps
- custom sounds on each map (I hope You will like them)
- realistic weather ;D
Known bugs:
- For now none
Credits
Thanks to:
- Jowood for great tracks!
- Krom for great tools!
- my brother modd15 for convert 3d mesh
- me for making sounds
Used Programs:
3ds max 5 (by Autodesk)
PTX Tool (by Krom)
MTkit2 (by Krom)
Stkit2 (by Krom)
Deep Exploration 5.0 (by Right Hemisphere)
DXTbmp (by Martin Wright)
WARNING!: Maps contains only V1 folder so don't scary if it don't load first time just try twice or third times ;D
Also there is no saftey aids so you wreck you die.
!!!Please do not modifact any file and don't put this file in other sites whitout my or author's permission!!!
Admins: Readme is in archive feel free to upload it into G.R database
DOWNLOAD:
http://www.mediafire.com/?x54kurp583ap4r2